Supporting Grieving Students
May 2, 2017 @ 6:00 pm

-

8:00 pm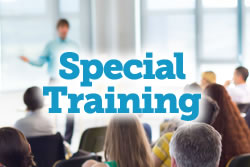 Jade Richardson Bock, Executive Director of the Children's Grief Center of New Mexico, will lead a two-hour workshop on how to support students through the grieving process.
The workshop will include:
Understanding how children grieve differently from adults.
Learn to recognize some of the common pitfalls to which bereaved youth are vulnerable, i.e. physical ailments, substance abuse, depression, increased tardiness and absences, poor school performance, anxiety disorders.
Identifying some of the key differences between bereaved youth at different developmental stages. Distinguish between elementary, middle, and high school-aged students, to create effective interventions.
Understanding our typical cultural responses to grief (i.e. fear of explicitly discussing the death and obscuring the facts with euphemisms, offering platitudes, ignoring the death) are not helpful. Learn how to replace typical responses with more helpful responses and compassionate companionship.
Exploring ideas to support bereaved parents and caregivers so they may better understand and support their grieving student at home.
The Supporting Grieving Students workshop is approved for CEUs for counselors, psychologists, and social workers by the NASW – NM.  CGC will provide certificates for those who require them.
Jade Richardson Bock, Executive Director of the Children's Grief Center of New Mexico, began volunteering for the program as a bereavement facilitator in 2003. In 2005 she was hired as Program Coordinator for The Children's Grief Center, and in 2007 was promoted to her current position.   In her time with the Center, she has grown the program from serving 50 individuals annually to serving over 400, and expanded programs in response to community need. Ms. Bock was recently named one of Albuquerque's top "Forty under 40" Executives by Albuquerque Business First, and in 2013 the Grief Center was awarded Non Profit of the Year in the Crisis Resources Category by the same institution. In 2008 she accepted the "Distinguished Contribution to New Mexico Families Award" from the New Mexico Association for Marriage and Family Therapy on behalf of the Children's Grief Center. Her most meaningful and poignant education in childhood bereavement and grieving families began at age 17 when her father was killed in a plane crash.