Teen Health Study Training
June 13, 2017

-

June 16, 2017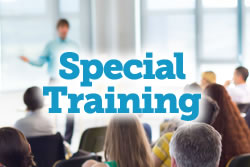 SWFGC is very proud to be supporting a training and research study by the The Policy and Research Group on emotional self-regulation in adolescents that have experienced trauma. This opportunity includes four days of training, up to 24 CE Hours, and a generous $800 stipend. Any providers who are interested please read CAREFULLY the letter below and be in touch with Janice McFarlane (her email is at the bottom of the letter.). Participation in this training and research would require a significant commitment both for the training and requirements beyond that so please review ALL the details below. If you have any questions, please be in touch with Courtney Custer (ccuster@swfamily.com) or Janice McFarlane (contact info below). 
The training will be held in the Pino Room at Nusenda Credit Union Administrative Center at 4100 Pan American Freeway NE, Albuquerque NM 87107. It will be held from

8:30 am to 4:30 pm

on Tuesday June 13th, Wednesday June 14th and Thursday June 15th, and from

9 am to 12 pm

on Friday June 16th.
The Policy & Research Group (PRG) is offering therapists an exciting opportunity to participate in a federally-funded study to help youth who have experienced trauma learn to regulate their emotions.
Therapists will receive 24 CEU hours, training in the Practice-Self Regulation (PS-R) therapy model at no cost, and a stipend for their participation.
Here is a brief overview of the project:
PRG has been funded by the federal Office of Adolescent Health's Teen Pregnancy Prevention Program to study a new program called Practice Self-Regulation, A Trauma Informed Approach for Health and Well Being (PS-R). The program was developed by Joann Schladale, a nationally recognized expert in the field of trauma, child abuse, and interpersonal violence since 1981. It is a 10-session one-on-one therapeutic intervention that helps teens regulate their emotions within the context of sexual health. This is an important opportunity for us to rigorously test an intervention that has the potential to help young people who've experienced trauma learn how to make healthy sexual decisions.
Participating therapists are trained in the PS-R intervention by the program developer, and eligible, consenting youth (ages 14-19) from therapists' current caseload are enrolled in the study and randomly assigned to either receive PS-R or continue on with their regular counseling. All study youth are asked to respond to questionnaires at 3 time points and will receive a $40 incentive each time they complete a questionnaire.
We are currently seeking therapists to partner with us to implement PS-R with eligible youth from their client populations. If you participate in this study, you will receive:
• Up to 24 CEU hours (12 CEU hours after you attend the training and an additional 12 CEU hours after you enroll 4 participants into the study)
• An $800 stipend to compensate you for the 4 days that you will spend at the PS-R intervention training ($400 after the training and an additional $400 after they enroll their first participant into the study)
• Ongoing guidance from the intervention developer for the duration of the study
• A $60 stipend each time they enroll a client into the study (unlimited)
• All supplies associated with the study
Therapists' clients who have agreed to participate in the study will receive $40 each time they take a questionnaire for the study (up to a $120 value per youth).
We will be hosting a 4-day training for this project on June 13th through 16th.
Please contact me if you would like to hear more about this project. Thank you in advance for considering this important opportunity!
Sincerely,
Janice McFarlane, MPA
Study Coordinator
The Policy & Research Group
Mobile: 505.225.6135
Email: janice@policyandresearch.com