Training: Working Classroom Model Of Community & Individual Transformation
September 30, 2016 @ 10:00 am

-

1:00 pm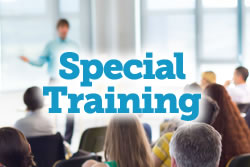 This training is for SWFGC staff. It is a 3 hour presentation on The Working Classroom Model of Community (and individual) Transformation at the Rio Grande Office in Dr. Pierce's Office. Please RSVP to Courtney Custer at ccuster@swfamily.com by September 23, 2016. Space is limited to 15 attendees.
Training Description:
Therapists will explore:
Issues of multicultural competency
Historical and generational trauma in our families and community.
A review and expanded view of the ARC model as applied to a community agency and what we can draw from this as therapists to incorporate into our own practices.
What our responsibility is (as therapists) toward addressing systemic problems in our community?
Do we limit our clients when we approach them from the perspective of their diagnosis and current situation as opposed to what they are capable of?
What are the limits of what we can do as therapists?
We are limited to 15 participants, so please RSVP by September 23rd.
Date/Time: 
Friday, September 30th, from 10 am to 1 pm
CEUs: 3.0
Presenters: 
Aaron Foster LPCC is a SWFGC therapist and past member of Working Classroom's theater ensemble
Nan Elsasser is the founder and past executive director of Working Classroom. Her writing on cultural issues and education inequality has appeared in the Harvard Educational Review, International Journal on the Sociology of Language, Humanities in Society, College English, Arete, Crosswinds Weekly, In These Times and the Journal of Education. At Working Classroom, she co-authored  the following plays: The Price of Silence/El precio del silencio. The Rubber Band and A Light In My Soul/La luz en mi alma. She also co-authored Las Mujeres: Conversations with a Hispanic Community, an oral history of three generations of Hispanic New Mexican women (with Kyly Fiore and Yvonne Tixier y Vigil), published by Feminist Press and McGraw-Hill.
Elsasser taught writing at the University of New Mexico's Navajo Teacher Education Project, the University of Albuquerque, the Institute of American Indian Arts, the College of the Bahamas (as a Fulbright Fellow) and the University of the Virgin Islands. She was a Fellow in Stanford University's Graduate School of Business Program for Non-Profit Leaders in the Arts, the recipient of the New Mexico Governor's Award for Excellence in the Arts and Traditional Home Magazine's Classic Woman Award in recognition of women who change the world.